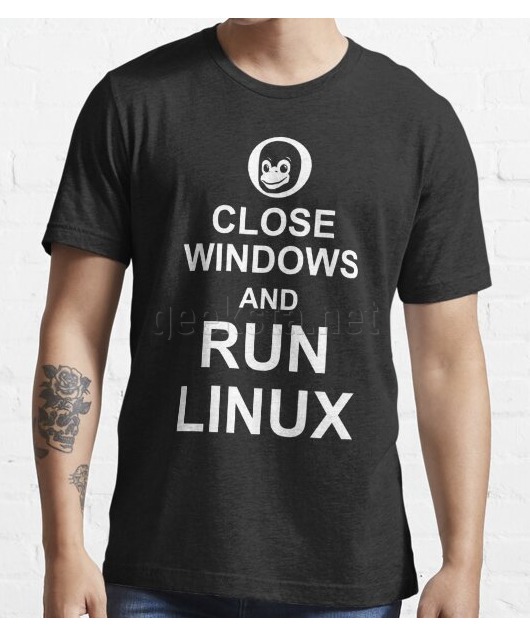 Want a custom version of this design? Send me a request.
Close Windows and Run Linux - Funny Design for Free Software Geeks
Users of the free and open source operating system Linux know that the best thing you can do to a computer and yourself is to close Windows and run Linux. Whether you are a system administrator or regular computer user, show your appreciation and love for Linux and at the same time make a little fun of the competition. A parody design reminiscent of the famous Keep Calm and Carry On motivational poster with the text CLOSE WINDOWS AND RUN LINUX in capital letters and a drawing of the Linux mascot Tux's head on top. The design elements are mainly held in white and are available on black products. For apparel such as shirts and hoodies other fabric colors can be chosen. The Tux image was designed by Andrew McGown and recreated as an Inkscape SVG by Josh Bush, and is released under Creative Commons license CC-BY-SA, see http://git.kernel.org/cgit/linux/kernel/git/torvalds/linux.git/tree/Documentation/logo.txt?id=8032b526d1a3bd91ad633dd3a3b5fdbc47ad54f1
Buy design from
Redbubble
Teespring
---
Please see the respective shop pages for details about available colors, product types and prices. The sizing charts will help you pick the right size for you or the lucky person in case you want to buy a gift.
---
You may also like
more open source shirts
---
Design published: by Ramiro Gómez
This design is available from the shops linked above. Available product options (size, color, type) and buying conditions differ across stores, so be sure to review them before you buy a product.
Disclosure: External links on this website may contain affiliate IDs, which means that I earn a commission if you make a purchase using these links. This allows me to offer hopefully valuable content for free while keeping this website sustainable. For more information, please see the disclosure section on the about page.